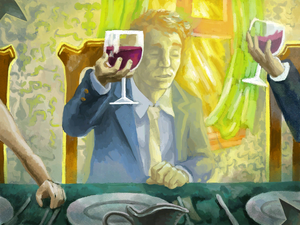 World 3
,
Time and Mystery
, is the second world in Braid. It introduces
Green Glow
objects which provide both
Obstacles
and solutions outside of normal time flow.
World Mechanic
Edit
World 3 also has no mechanic. It is a reintroduction to more complex puzzles and introduces the complexities of green glow objects. Note that time manipulation is now required to solve most puzzles.
Storyline
Edit
The painting shows a man holding up a glass of red wine in a toast.
Ad blocker interference detected!
Wikia is a free-to-use site that makes money from advertising. We have a modified experience for viewers using ad blockers

Wikia is not accessible if you've made further modifications. Remove the custom ad blocker rule(s) and the page will load as expected.